APRIL 2022
Bug fixes and stability improvements
MARCH 2022
Bug fixes and stability improvements
FEBRUARY 2022
NEW FEATURES
PRE-AUTH AND BAR TABS ARE HERE FOR SALIDO'S PAYANYWHERE MERCHANTS!

See our Resource Center articles below to check out the simplified worfklows and contact an Account Manager to sign up today!


TIP ADJUST IS NOW AVAILABLE IN THE BRIDGE

In addition to issuing refunds, the Bridge now gives merchants the ability to process new charges. Tightly controlled permissions help limit access to the feature and prevent fraud.
JANUARY 2022
NEW FEATURES
LOCATION NAME FOR SMS ALERTS Added an option to use either the Location Name or the Brand Name for SMS alerts, allowing Brands with mutliple stores to differentiate alerts!

To enable, toggle on Use Location Name for SMS Order Alerts in Preference Profiles.


NOTE: Requires KDS v5.42.0 or higher


CUSTOMIZE SUGGESTED TIPS Added customization fields to the Suggested Tip section of the SALIDO Point of Sale. Whether it's 10, 15, and 20, or 18, 20, and 22, specify the percentages most appropriate for your business!

Now available to all merchants!


IMPROVEMENTS
GOOD FAITH PAYMENT ERROR NOTIFICATIONS now include Check #, Amount, Card Type, Last 4 Digits, and Error Message


OTHER NOTABLE UPDATES
Improved stability for BBPOS 3-in-1 connectivity
Fixed an issue Gift Card payments could not be adjusted more than once prior to authorization
Fixed an issue wherein Gift Card numbers were being rounded when exporting a report to XLSX format
Fixed a rare issue that prevented new tables from being added to the floorplan of specific Revenue Centers
Improved guest-facing receipts for credit card refunds for merchants using the Magensa payment gateway
Fixed a very rare issue payment capture issue for merchants using the Magensa payment gateway
Fixed an issue wherein some refunds and credits performed from the Bridge did not generate a guest-facing receipt for merchants using the Magensa payment gateway
COMING SOON
Pre-authorization and Bar Tabs for Payanywhere merchants! Stay tuned!
NOVEMBER POS RELEASE
IMPROVEMENTS TO EXISTING FEATURES
We've made multiple UI/UX changes and improvements within the POS app that will clarify communication and improve the user experience around payments!
EPX Merchants can now specify which tip percentages they would like to calculate and show on the bottom of guest receipts.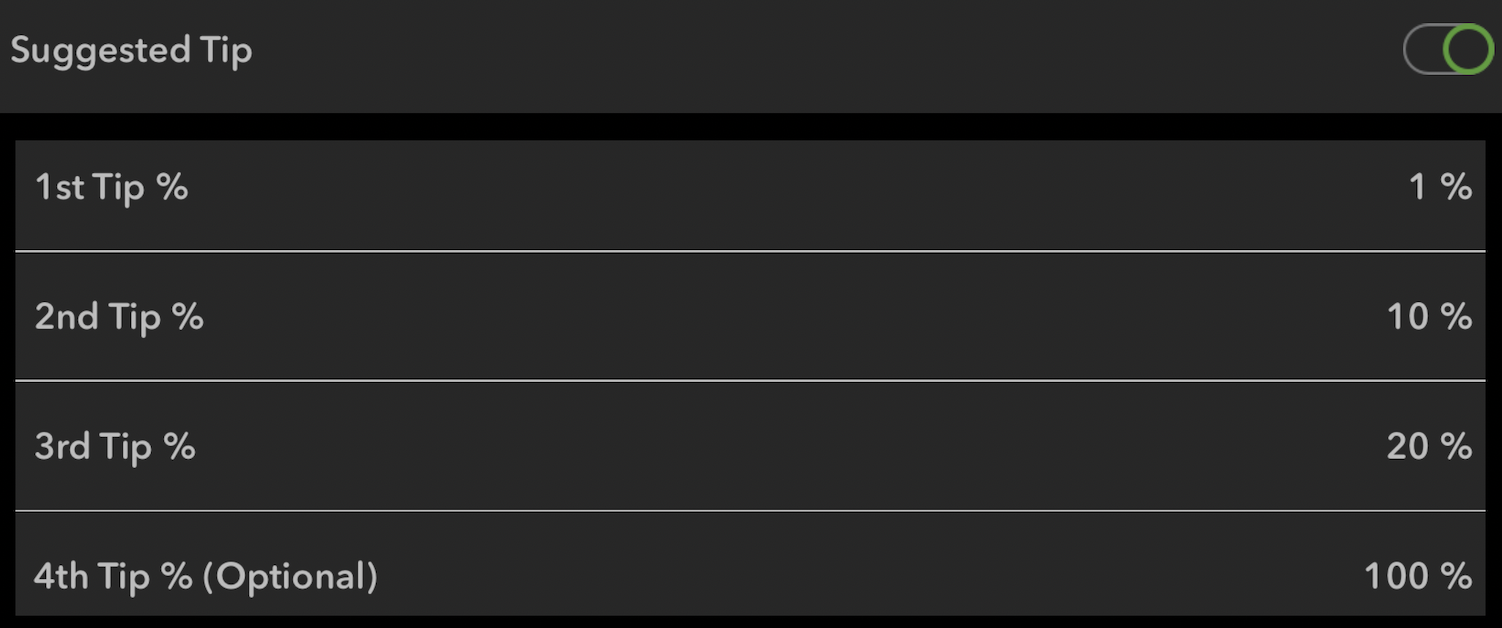 Infor Integration - Improved handling for Unicode characters
EPX Merchants - Improved response parsing and improved language for the InvoiceSend error message
COMING SOON - 5.41.0
SMS alerts that announce the Location name to guests, instead of only Brand Name.

Simply toggle on Use Location Name for SMS Order Alerts in the Preference Profile!
SEPTEMBER POS RELEASE
NEW FEATURES!
Employee Tip-Out
Managers now have the ability to assign Tip-Out percentages to employee positions, directly from the Bridge! All Positions will now have an optional sub-section for linking other Positions, and determining what percentage to assign. Tip Out % can be calculated on Net Sales, Gross Sales, Tips, Gratuity, or Tips + Gratuity combined. These percentages and their corresponding sub totals can be seen printed on the POS Daily Detail, or POS Server Detail reports.

New Printer Support!
SALIDO now supports Epson T20 and T20ii receipt printers.
IMPROVEMENTS TO EXISTING FEATURES
We've made significant improvements to the way our Menus are loaded, and this should result in faster Menu loading times, and less time spend switching between multiple available Menus.

Infor users will no longer see an error message after submitting an order with a non-alphanumeric character in a Menu Item Name.

Large event checks will now undergo a check to ensure their combined size will not surpass the database size limit when attempting a merge.

POS will now prompt a user to disconnect an eDynamo card reader from another device if it detects an attempt to initiate a new pairing, instead of blocking the attempt
BUG FIXES
5.38.0

Fixed a UI bug in which modifiers selected on the second page of a Modifier Group would appear deselected when scrolling between pages

Resolved an issue where the DONE button on an OLO KDS would be unresponsive if the order's Revenue Center was not assigned a Prep Profile in the Bridge

Orders submitted to Prep Devices by an OLO KDS will now properly respect the Indicate Items at Other Prep Stations toggle in Preference Profiles
Fixed a rare bug where Employee Names would print as (null) (null) on Clock Out Reports
Fixed a rare issue wherein calculating the POS Menu size could cause crashing

5.38.1

Fixed a user authentication issue when accessing the SALIDO Bridge from the Point of Sale

5.38.3

Fixed an issue introduced in 5.38.0 that disabled Local Printing
AUGUST POS RELEASE
NEW FEATURES!
Splitting Grouped Items
Users can now separate items previously ordered in quantity into individual items. This will help facilitate a more efficient workflow when a guest is looking to split the bill, as well as prevent the inflation of item void totals. Learn more about this valuable new feature in our Resource Center.
Split Items to Multiple New Checks
Instead of creating one split check at a time, operators now have the ability to create multiple new checks and split items off the original check from one single screen! The workflow has been streamlined to allow servers to split a large table's bill easily and quickly.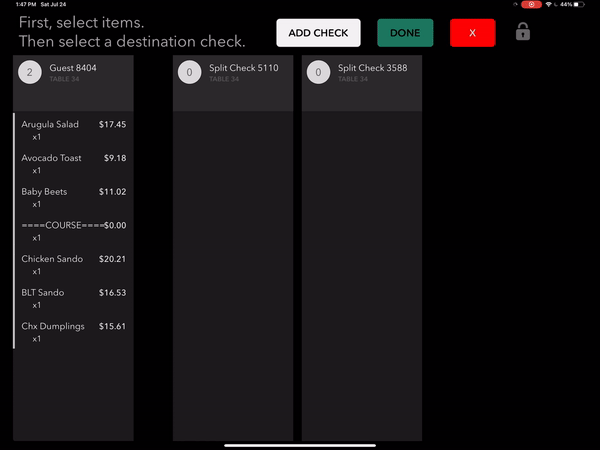 Forced Modifiers
There is now full support for Minimum & Maximum Modifiers on POS, not just through Online Ordering! Operators can now mandate that servers select a minimum or a maximum number of modifiers before being allowed to send a check to the Kitchen or Bar! For more information on how managers can set this up for each Modifier Group, please review this online Resource Center article.
Failover Printing
Printer failures happen. Operators are now able to specify - in advance - a "failover" printer that automatically receives Prep Tickets routed to another device if the intended device becomes unreachable. This is an optional feature that can be configured in the Bridge under Device Management on an individual printer level.
IMPROVEMENTS TO EXISTING FEATURES
POS will now produce an error message and prohibit actions that would cause a single check to exceed our internal file size limit. This will also prevent checks from losing items and payments if they would become too large upon a merge.

UI update that adds a warning message to POS to indicate when a terminal is disconnected from the back end database and must be restarted.

UI update introduces a GREY Prep Status indicator to communicate Prep Status = N/A to the operator. This replaces the GREEN Prep Status indicator that was too easily confused with a successful print job.
BUG FIXES
Fixed a bug where Menu Item quantity was not being respected on Prep Tickets when both "Combine Identical Items" and "Group Items by Prep Station" were enabled.

Resolved an issue where special characters (e.g. &) would cause integrated room charges to fail.

Fixed a bug wherein check items split to another check were failing to retain Tax status

Split Checks will now be discarded if no items or Check Label are added after creation
JUNE POS RELEASE
NEW FEATURES!
TCC Gift Cards as Comp Cards!
One of our most frequently requested features has arrived! Operators who leverage our integrated Gift Cards are now able to load a Gift Card using a Custom Payment Method! Make a regular's day, or deliver perks to employees with a comp card! Learn more about this valuable new feature in our Resource Center.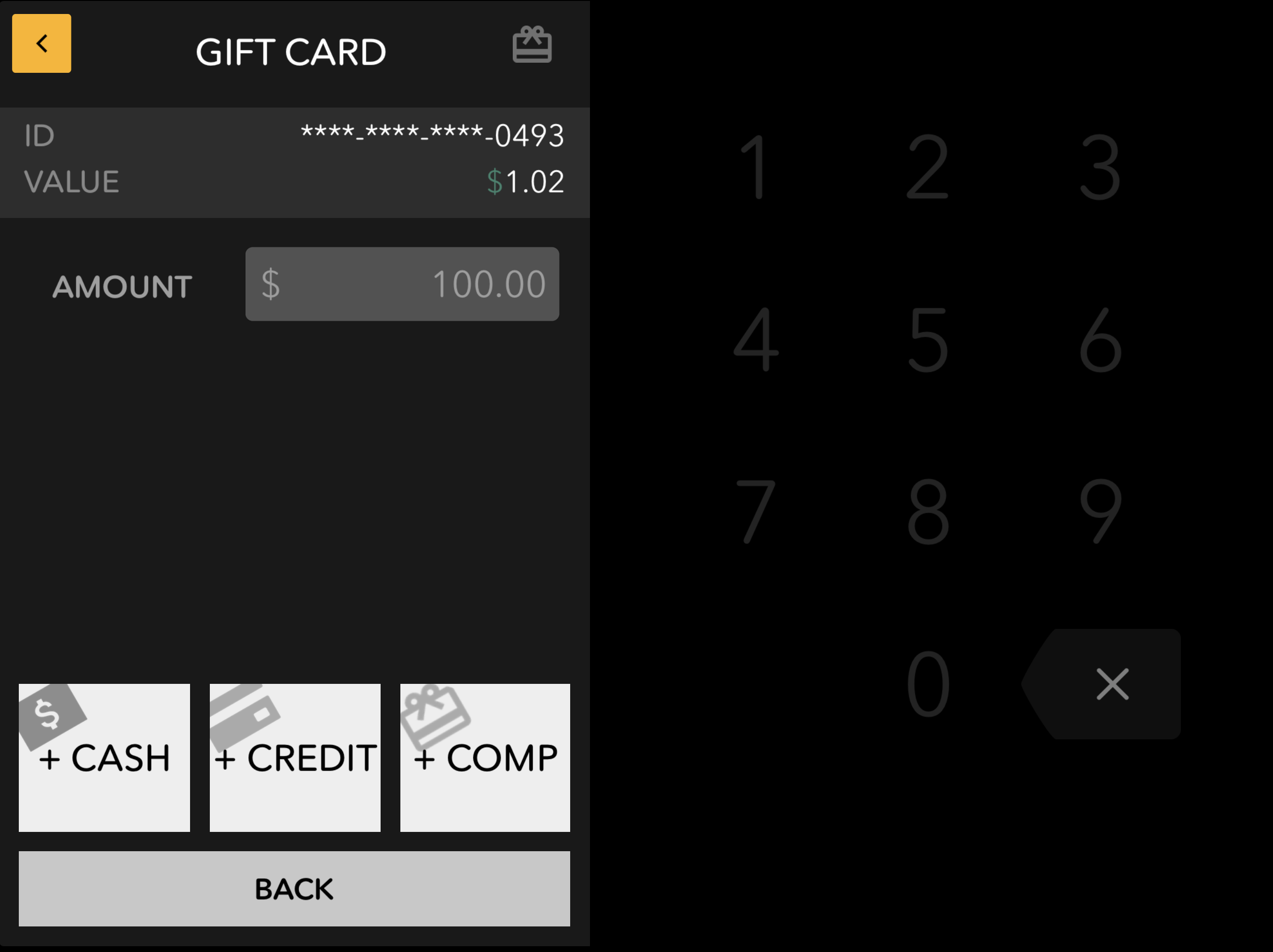 Transactional Gift Card Reporting!
Transactional and aggregate stored-value data for Gift Cards is now fully integrated into the SALIDO Reports platform. Gift Card data transaction data can be viewed in both Summary and Detail formats, similar to other Payments-related reports. For additional information please visit our Resource Center.
BUG FIXES
Operators utilizing our native payment processor, EPX, will benefit from multiple stability fixes that greatly decrease the number of Bluetooth disconnects seen on the BBPOS Card Readers
Operators can no longer create Menu Items with a negative price
MAY POS RELEASE
IMPROVEMENTS TO EXISTING FEATURES
Added additional logging for our latest PMS integration, Infor

The BBPOS Card Reader pairing modal can now be launched from the SALIDO Home Screen
BUG FIXES
EPX merchants who utilize The Customer Connection for Gift Cards are once again able to utilize Gift Card numbers between 4 and 20 digits.

Resolved a rare bug that occasionally caused the POS app to revert back to a previous instance of the database and re-surface old data
Fixed a bug that was occasionally resulting in a slowdown of POS app and printing speeds
Fixed an issue where archived Day Parts were erroneously populating to Menu Schedules
MARCH POS RELEASE
Mandatory iOS Update!
As of the 5.27 SALIDO App version, all iPads must be running iOS 14 or later. For additional information, please refer to the SALIDO Announcement.
Please Note: iPadOS 14 introduces a Privacy setting that requires permission to communicate with other devices on the Local Network. Further details can be found here.
The SALIDO Viento Handheld is now available!
This winter, we successfully launched our new handheld solution, the SALIDO Viento. As fashionable as it is functional, Viento allows you to offer fast and frictionless table-side checkout to your guests inside or out. This solution is available to our Merchants processing through EPX - for more information, please email accounts@salido.com!
Incremental Authorization
Operators utilizing our native payment processor, EPX, can now leverage Incremental Authorization for payments. This provides merchants unlimited Tip Adjustments as well as Base Adjustments.
New Hardware Support
SALIDO now supports the following Epson printer models: TM-m30II-NT, TM-m30II, TM-m20III
IMPROVEMENTS TO EXISTING FEATURES
The BBPOS 3-in-1 Card Reader Connection Screen can now be launched without creating a dummy check!

Checks generated from Online Ordering now list the full name of the guest
Revenue Categories are now sorted Alphabetically on POS Reports
Better UI to indicate a Terminal is disconnected from the SALIDO database, which allows staff to differentiate from an Internet or LAN disconnect
BUG FIXES
Fixed edge case where CC Authorization was returned for a different amount than requested by POS
JANUARY POS RELEASE
SALIDO Bridge Hardware Monitoring
SALIDO Bridge users can now see a Terminal iPad's iOS history, charging status, and battery level, as well as the associated BBPOS 3-in-1 Card Reader's battery level and connectivity history! Teams can review a Terminal's change logs and see devices that are currently disconnected from power or having trouble charging, making it faster and easier for Operators to monitor hardware issues.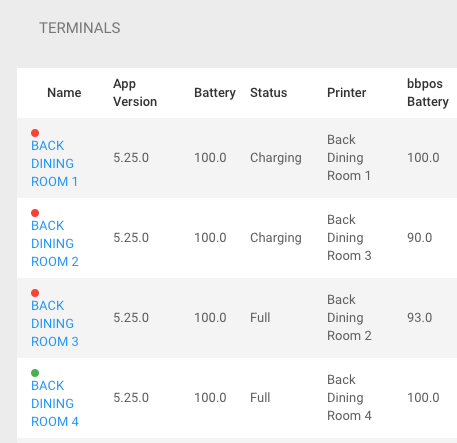 Infor Certified!
SALIDO is now Infor Certified! Operators using the Infor Property Management System can now fully integrate with their Hotel software. Seamlessly create orders and post charges to a guest's room, account, or guest-folio directly from SALIDO from anywhere in the Hotel!
Improved Gift Card Integration for EPX Customers
Operators utilizing our native payment processor, EPX, can now process integrated Gift Cards via the BBPOS 3-in-1 card reader in addition to manual entry.
IMPROVEMENTS TO EXISTING FEATURES
Additional and ongoing stability enhancements for PayAnywhere operators

Improved support for hardwired Terminals for hotel properties utilizing our integrated Opera interface

Improved credit card decline error messaging to provide clearer information to Operations using our native payment processor, EPX

Added the ability to clear the SALIDO app cache to improve overall system performance, especially for older model iPads
BUG FIXES
Resolved a bug that caused incomplete authorizations to produce a spinning icon on the Payment Screen

Fixed a rare bug that was causing a duplicate authorization when using Quick Pay
DECEMBER POS RELEASE
SALIDO Check Details, Payment Details & Refunds!
SALIDO now offers our users the ability to fully audit the lifecycle of an individual check and perform refunds directly through the SALIDO Bridge! This update provides key insights into the customer experience and streamlines customer refunds for your operations. Users no longer need to call the SALIDO Support line or find a computer perform these tasks.
View Check Details
With the latest release, SALIDO users have access to information regarding the customer's check end to end. Users can now see Open times, the Check Owner, who performed Discounts, when a check was transferred and to whom.
View Payment Details
See valuable details such as card type, last 4, who processed the payment, and if any staff member made any adjustments to the transaction.
Refund Transactions Partially or in Full
With the right permissions, it's possible to credit back all or a portion of a settled transaction in just several clicks. We understand how sensitive this information is and have tight controls available to you and designated users.You can still perform same day refunds directly on the POS by simply adjusting the check.
In situations where your credit card batch has already settled, SALIDO users can navigate to the SALIDO Bridge, find the customer's check and directly perform a credit to their card. This feature is available to SALIDO's EPX customers only. For more information, please reach out to SALIDO Support.
Notable Bug Fixes
Resolved a bug (5.23.2) that was causing an infinitely spinning icon during the authorization of a payment
OCTOBER POS RELEASE
PAY ANYWHERE - MULTIPLE TIP ADJUSTMENTS!
Pay Anywhere users will now be able to adjust tips multiple times on checks that are still open, or checks that have been closed within the current Business Day!
Notable Bug Fixes
Resolved a bug that was causing voided payments to settle on Pay Anywhere

Check labels will now print on Hold and Fire tickets when "Separate HOLD/FIRE ticket chits" is Toggled ON in the Preference Profile
AUGUST POS RELEASE
CASH DISCOUNT
Welcome to the SALIDO Cash Discount Program! SALIDO's innovative solution now gives operators the opportunity to treat every transaction as a cash transaction. Through the use of our cash discount programming, all checks can be assigned two prices, creating a unique price decrease that is applied on a check whenever the cash payment method is used.
For more information, along with detailed instructions on how to enable this feature, please see our Resource Center article.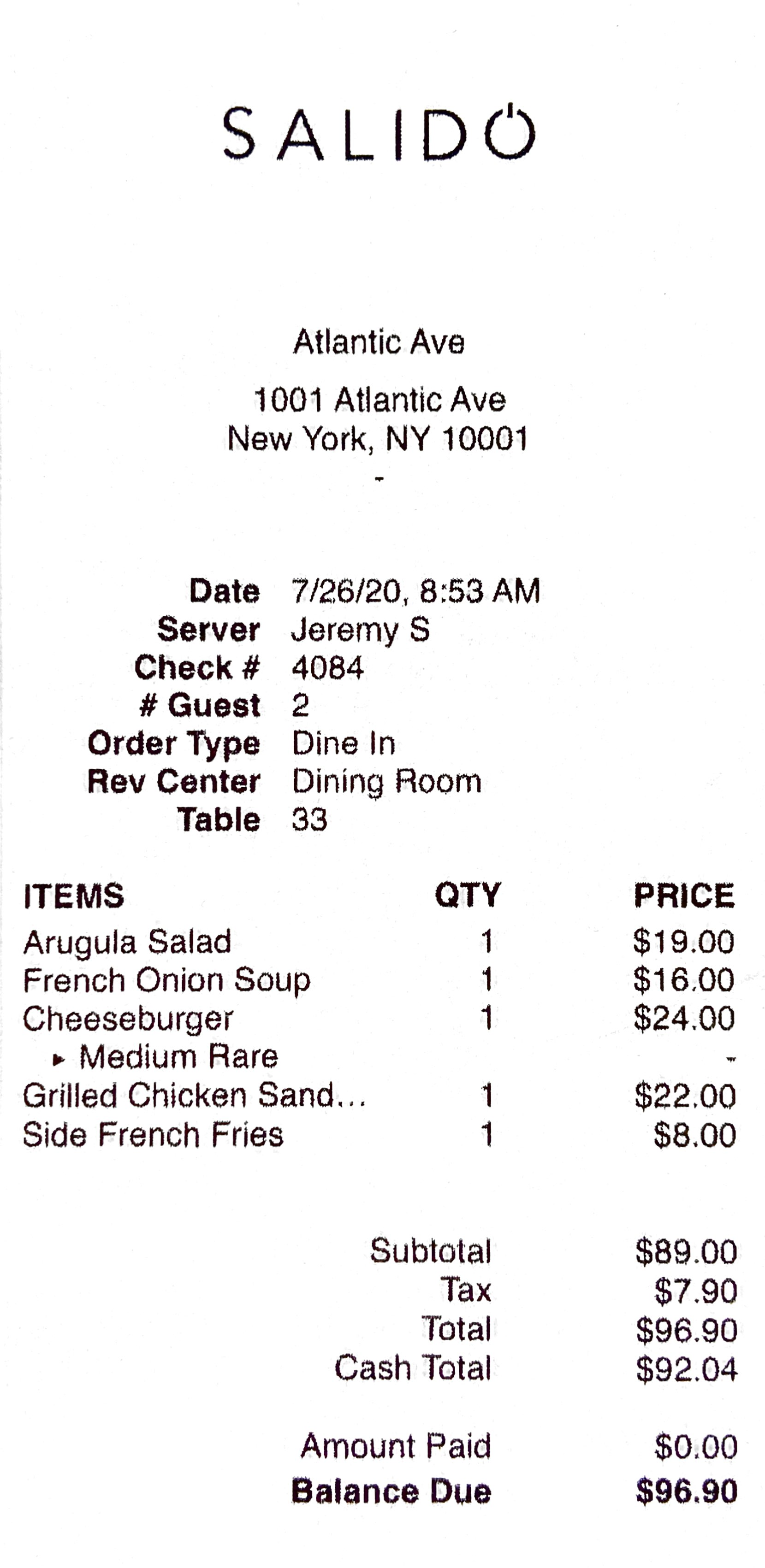 POSITION NUMBERS
Based on all your feedback, we are happy to announce the POS now allows for the option to have non-gender specific positions when selecting menu items. Operations that prefer to specify gender can continue to do so while those that would prefer to simply have the number assignments now default to that selection. Learn more here!
"ALL REVENUE CENTERS" CHECK VIEW
Operators can now view all checks across all Revenue Centers on one screen! Select "All Revenue Centers" from the Revenue Center dropdown when viewing checks from the Open or Closed Checks Screen within the POS. With this update, you can quickly and efficiently confirm all checks have been closed before you leave for the day.
PREP SCHEDULES
SALIDO is thrilled to announce the release of Prep Schedules! You can now configure complex routing throughout your entire property to streamline operations. Automated routing of prep tickets can be based upon the revenue center and the time of day.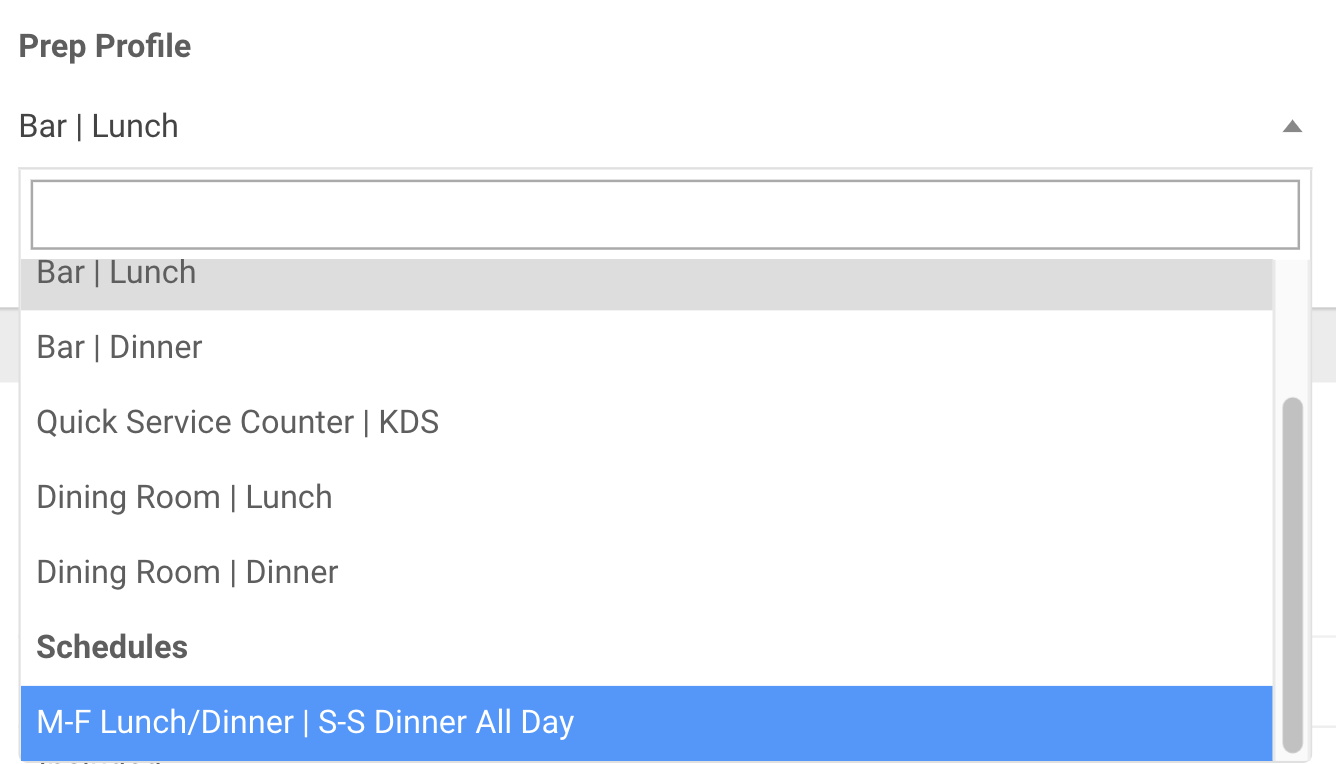 ADDITIONAL IMPROVEMENTS TO EXISTING FEATURES:
"Allergy" has been added as a prompt in the basic modifiers search list.

Guests are now able to see Change Due on itemized receipts, when the payment was collected through Quick Cash.

Checks that are voided on the POS will now print a much clearer Void Prep Ticket, when printed on thermal printers.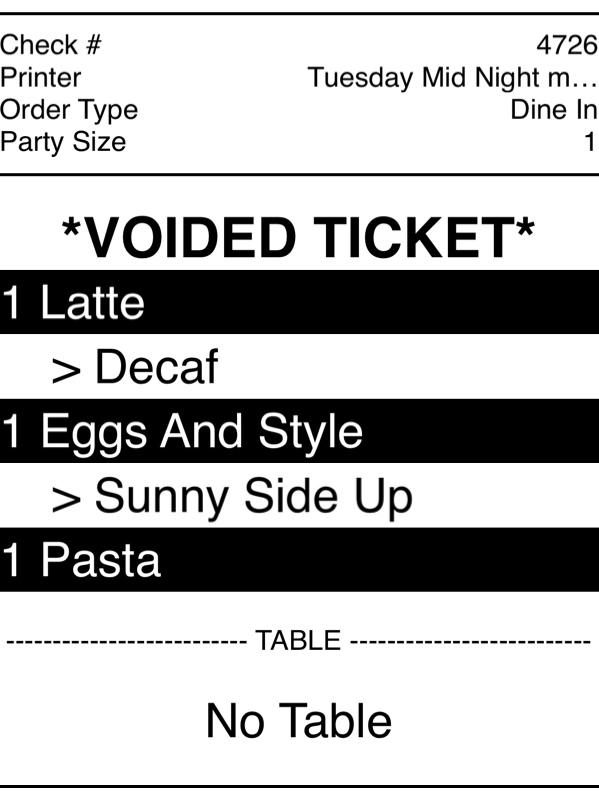 PLEASE CHECK OUT OUR RESTAURANT RE-OPENING GUIDE!
SALIDO is excited to be a part of your reopening plans. To ensure you are set up for success we've put together some helpful tidbits for your relaunch! Please feel free to reach out to our Support Team at (855) 879-7595 or support@salido.com with any questions or concerns during this process.
NOTABLE BUG FIXES:
Resolved an issue where discounts were not being honored on saved checks.

Fixed a bug causing a strike-through to appear through non-voided Menu Items on KDS.
JULY POS RELEASE
Lots of Exciting New Features!
OPERA CERTIFICATION
SALIDO is now Opera Certified, which means our Hotel Operators can now fully integrate with their Opera software. Seamlessly create orders, and post charges to guest room, account, or guest-folio from anywhere in the Hotel!
CALCULATED TIP PERCENTAGE
One of our most requested features has arrived! Calculated tips can result in higher and more consistent tipping, and cut down on time and human error as staff close out their tables. Receipts now have the option of displaying tip calculations for a range of percentages.
To learn more about how to enable Suggested Tips on a per-Terminal basis, please visit our Resource Center!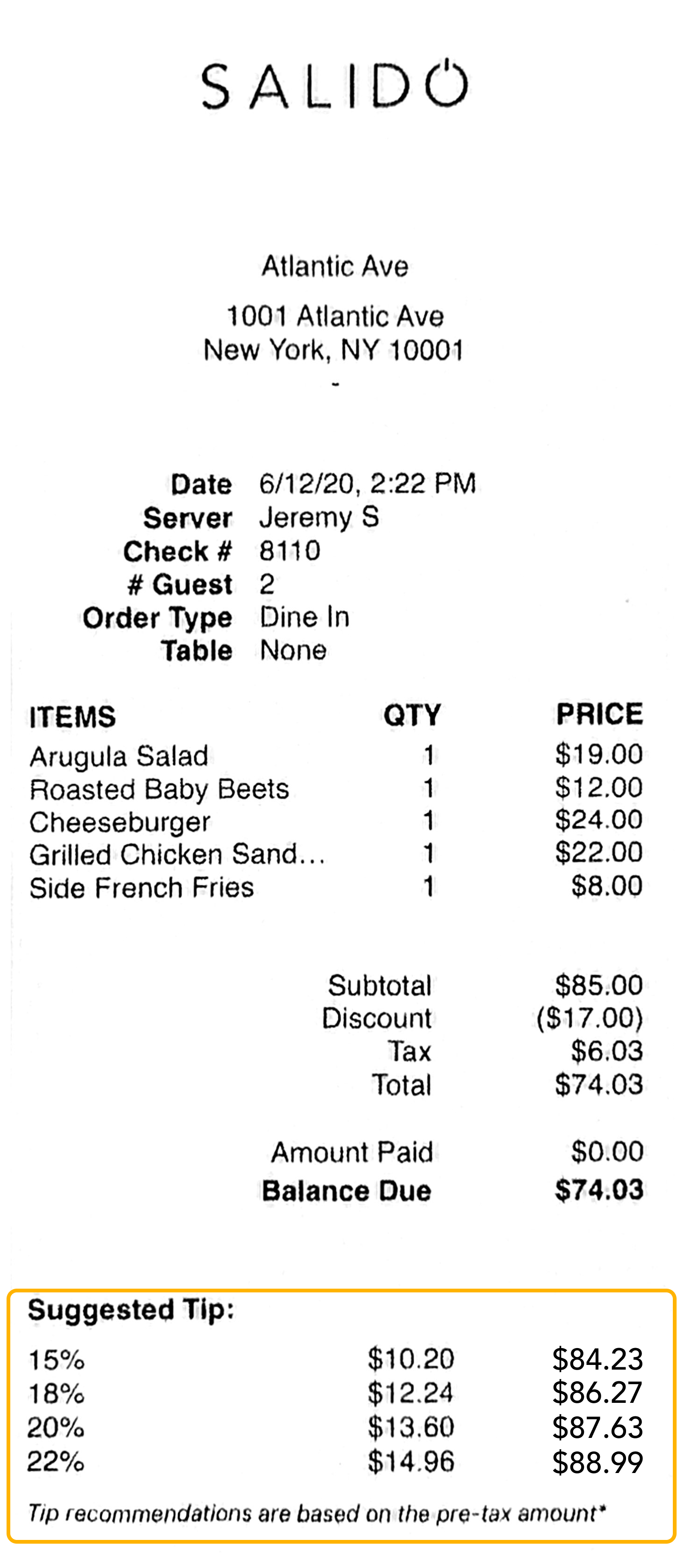 LOCAL PRINTING
Local Prep Tickets can now be configured to print dynamically to the printer associated with an individual terminal! Some prep tickets only need to be seen by the person who rings them in, such as wine bottles for the Sommelier, or marking chits for the serving staff. Local printers allow operators to assign a group of Menu Items one single Prep Station, but allows for dynamic prep printers! This saves the staff time, and prevents overlooked orders.
Please see this article from our Resource Center on how to configure a Prep Station for Local Printing.
SHOW DISCOUNT NAMES
Guest-facing receipts now have the option to show the name of a discount that has been applied! This can be enabled on a per-Terminal basis for both check-level and item-level discounts.
For detailed instructions on how to enable this feature, please see this Resource Center article.
JUNE POS RELEASE
CONTACTLESS PAYMENTS ARE LIVE FOR ALL OPERATORS!
Both FSR and QSR operators are beginning to leverage our contactless payment hardware, through PayAnywhere! Restaurant leaders interested in a free hardware upgrade should reach out to accounts@salido.com for more information.
Additional information about our new contactless hardware can be found in our Resource Center!
MENU ITEM COUNTS ON ANY ITEM
Counts on all those un-pinned wine bottles are now possible! With this update, operators will be able to use the Menu Manager feature within the POS app to place counts on low-stock or special items by searching, even ones that are not pinned to a specific Menu Section!
ADDITIONAL IMPROVEMENTS TO EXISTING FEATURES:
Guests will now be required to select a tip when utilizing the Digital Signature feature
APRIL POS RELEASE
CONTACTLESS PAYMENTS UPGRADE
SALIDO now supports contactless payments such as Apple Pay, Samsung Pay, and contactless pay enabled credit cards for our QSR operators! Please email accounts@salido.com for upgrade information.
BRANDED RECEIPTS
It is now possible to add your Location's logo to your guest receipts! For additional information on how to configure your receipt image, please visit our Resource Center to learn how to configure your receipt image.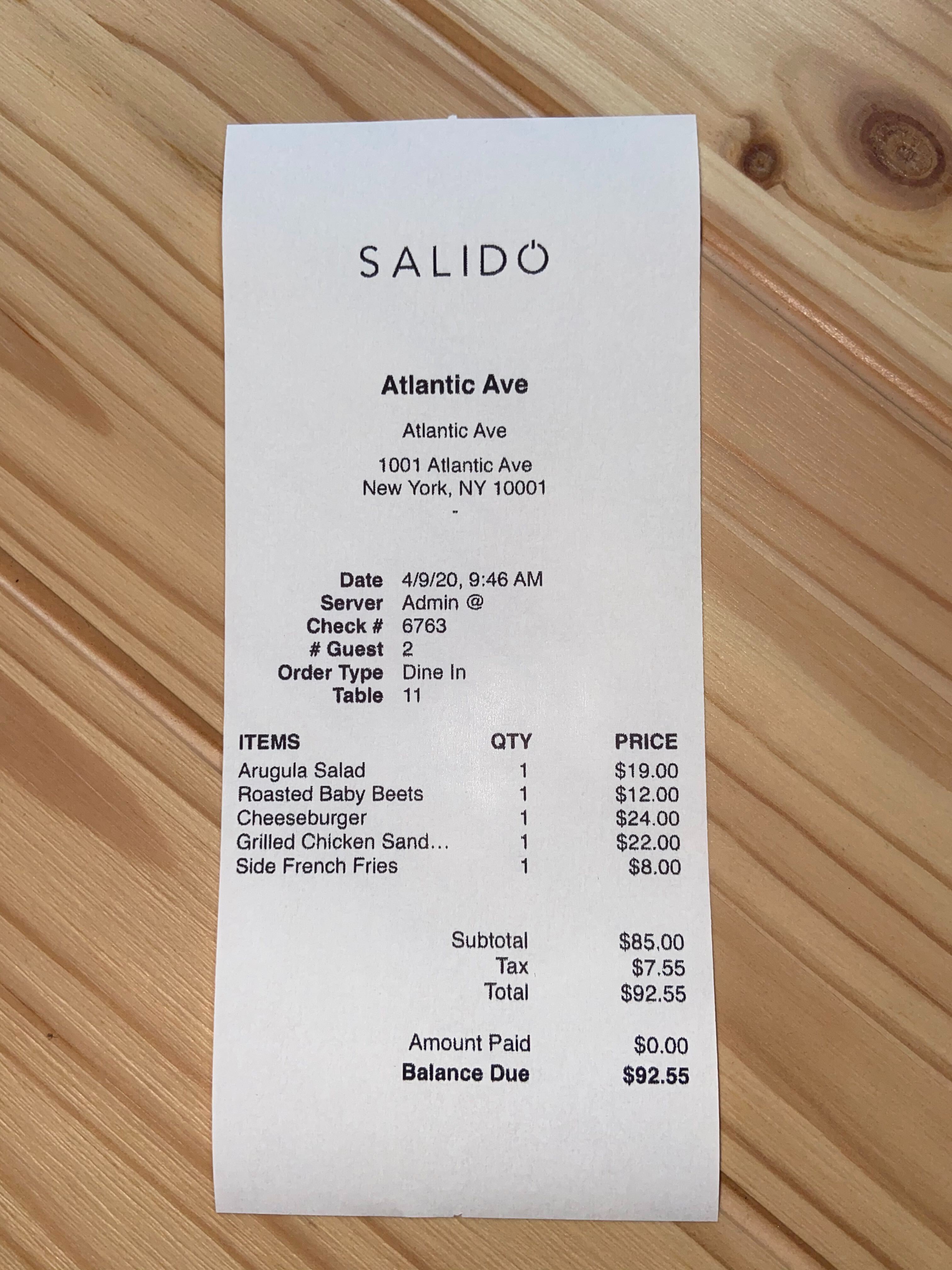 REPORTS 2.0
All SALIDO users now have access to our second-generation reporting system! Reports 2.0 offers highly customizable template-based reports in both Summary and Detail format. We have added features to filter out data from any report, as well as edit report parameters through grouping and comparing.
These powerful reports can be exported, emailed, and scheduled just like before. To access Reports 2.0, simply click on the yellow circle on the upper right hand side of the dashboard screen.

IMPROVEMENTS TO EXISTING FEATURES
The POS app will no longer allow iOS to auto-lock the screen when the app is open, reducing syncing interruptions and improving overall app performance.
POS 5
MULTIPLE CHECKS ON TABLES
You no longer have to close a check on an occupied table to start a new table. It is now possible to start new checks on existing tables! Simply navigate to the Floor Plan, and long-press on a table to start a new check.
SPRINGER-MILLER PMS INTEGRATION
Hotels utilizing Springer-Miller's PMS solution can now post room charges to guest folios.
MENU SCHEDULES
More automation means more time your team can spend running the show! Menu schedules can now be configured so your POS terminals display a different default menu with each of your organization's day parts.
IMPROVEMENTS TO EXISTING FEATURES
POS Makeover
We've made several minor UI improvements, giving the POS a mini-makeover. Don't worry... we haven't made any changes to your workflows, so that muscle memory will continue serving you well.
Check Recovery Feature
Our Check Recovery feature has been relocated to protect against misuse. As always, check overrides should be reserved for emergency situations, but in the event you need to access this feature, it can now be found by tapping the Support "life raft" icon at the bottom of the Main Menu screen and selecting "Launch Check Recovery."
General Speed Improvements
We've heard your concerns about POS speed, and we've implemented many fixes for app lag that was occurring during order entry, note typing, or item searching.
Integrations: Data fidelity has been improved across various integration partners. Some notable enhancements include:
Data is now being timestamped in local time instead of UTC

Pay In/Pay Out data is now being exported to Restaurant 365

Gift Card sales will be accurately reflected in CTUIT DSRs
Auto-batch for Open Checks
Users might notice SALIDO is batching all credit card transactions at the end of the business day, even if the check remains open in the system. This will prevent reporting discrepancies caused by checks remaining open. Please make sure to close out of all your checks at the close of the business day.