ABOUT SALID

O
SALIDO is a cloud-based Point of Sale system developed to work on iPads running iOS 15.7 or higher. Operators can access their data from any location with an Internet connection, allowing for instantaneous changes, updates, and data collection. The following is an overview of the hardware SALIDO runs on, and the basics of what an operator will encounter in the first few moments of using the SALIDO POS.
SUPPORTED TERMINAL HARDWARE
A SALIDO POS TERMINAL INCLUDES:

Apple iPad

NClose metal enclosure with or without a stand

Magtek iDynamo 6 credit card reader

Charging elements.

Operations may also include a cash drawer, thermal receipt printer, and/or an impact kitchen printer.
MINIMUM IPAD REQUIREMENTS
Minimum Requirements
Description
Provide iPad Serial Number
Helps us verify the device and model

iOS Requirements

Minimum: 15.7

Current iOS: 17.1

Minimum Storage

128GB

Minimum RAM

3GB

How your iPad is used

SALIDO POS must be the ONLY intended use for the iPad.

This meets PCI compliance requirements. Please make other arrangements for labor management and music software.

Supported iPad Generations

7th, 8th, 9th, and 10th Generations

Supported iPad Mini Generations

5th and 6th Generation

Supported iPad Pro Generations

3rd, 4th, 5th and 6th Generations
UNSUPPORTED APPLE HARDWARE
| | |
| --- | --- |
| iPad Pro | 1st Generation or older |
| iPad Air | 1st and 2nd Generation or older |
| iPad | 5th and 6th Generation or older |
| iPad Mini | 4th generation or older |
FIND YOUR IPAD INFORMATION
Start by locating and opening the iOS Settings.
Pictured in the photo to the right

Next navigate to the "General" Section in the menu on the left.

Select "About," This section has all of the information about the device

Please collect the following information listed below:

Software Version - This is the iOS App Version (e.g. iOS 15.7)

Model Name - This is the iPad Generation. As a Reminder:

Compatible standard iPad generations are 7th, 8th, and 9th if acquired prior to 2023.

Compatible iPad Mini Generations are 5th and 6th Generation

Compatible iPad Pro Generations are 3rd, 4th, 5th and 6th Generations

Model Number - unique product code for model

Serial Number - unique ID for the Apple Device used for device verification

Hold for possible RAM/Memory Step

Hold for Memory Screenshot

After collecting all of the device information please enter it on the following form

SALIDO Hardware Compatibility Form
APPLE IPAD BATTERY MAINTENANCE
Minimum to charge: 18watt PD Lightning or USB-C Charging Cable and Adapter.
An iPad with a completely depleted battery will display a charge-battery icon when the iPad power button is pressed. Connect the device directly to a power source via an Apple-approved Lightning cable to quickly recharge the device.
A SALIDO Terminal with a battery percentage of 10% or lower will display a red banner asking to ensure the iPad is connected to a power source. This banner will disappear once the iPad is charged above 10% battery.
OPERATING APPLE IPAD
For all iPad models with a physical Home Button (excludes post-2019 iPad Pro):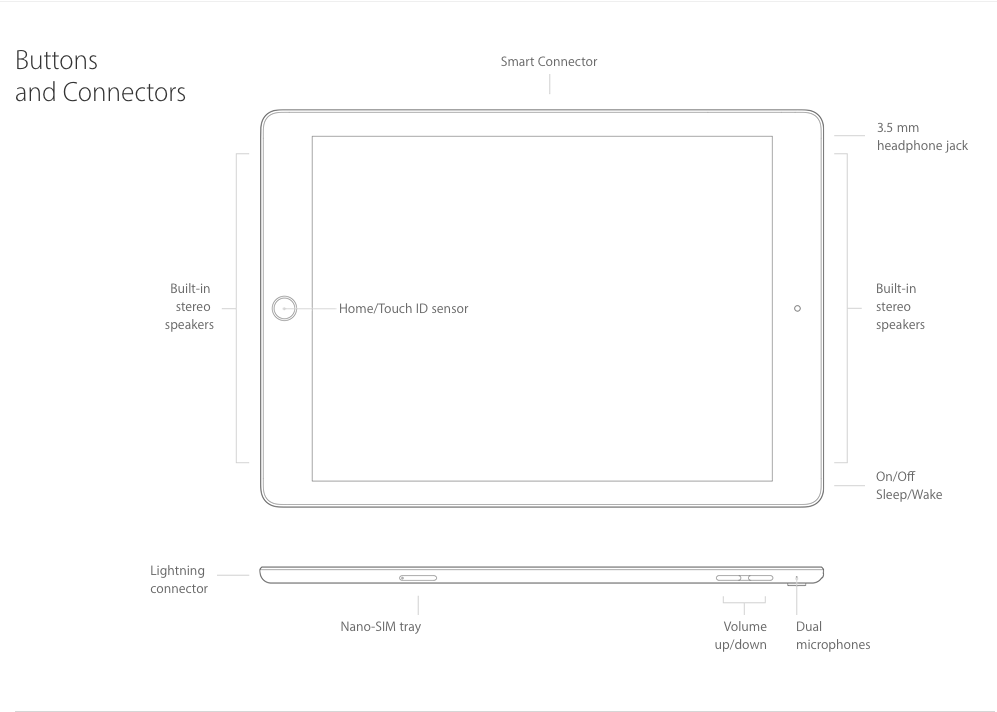 1. TURNING ON IPAD
Locate the Power Button on the top short edge of the iPad, labeled "On/Off, Sleep/Wake" on the above diagram
Press and hold the iPad Power Button until the Apple icon appears

If a battery image appears, connect to a power source to charge the device
2. TURNING OFF IPAD
Press and hold the iPad Power Button until the "slide to power off" prompt appears
Swipe the red power button to the right
Please visit the Apple Support Center for additional resources:
IPAD BEST PRACTICE
Guided Access is an iOS feature designed with educational software in mind that locks iPads into a single application. Guided Access runs in sessions that can be started and ended by triple-clicking the iPad Home Button and entering a user-defined Guided Access Passcode. We strongly recommend all of our operators enable and leverage Guided Access to ensure the SALIDO app stays open and running at all times.
Display and Brightness should remain at 50% or lower in order to preserve battery life.
Bluetooth should be toggled off.
Siri should be toggled off to preserve battery life.
SUPPORTED EPSON PRINTERS
Impact - Kitchen Prep Printer:
Epson TM-U220B

Thermal - Guest Receipt Printer:
Epson TM-M30II
NETWORK SETTINGS
Two internet connections from two separate ISP's are recommended for failover & business continuity, when possible.

Primary internet connection should have a block of 2 static Public IP's assigned, for network segmentation.

Primary internet connection should have at least a 100 x 10 mbps bandwidth speed, or higher if you are implementing a guest network.

Secondary internet connection can be dynamically assigned with a lower bandwidth connection. No lower than 5mbps upload speed is recommended.

If two ISPs are unavailable in your building we do suggest a firewall capable of USB WWAN failover.

ISP modem/router should be bridged or put in pass through mode; turning off any firewall settings (especially SIP alg & H.225 when using VoIP phones), turning off NAT, turning off DHCP & turning off any WiFi networks that are being broadcasted. If your ISP is Verizon, you should connect directly to the ONT removing the wireless router provided unless your property is using cable TVs from FiOS then you will need to keep the modem connected and supply it one of your static IPs.
PHYSICAL INFRASTRUCTURE
There should be a designated area, free from obstruction, for all the network equipment. A network rack is recommended.

All Ethernet runs should be qualified (at 1gbps) and clearly labeled on both ends. Recommend using Cat6 cabling & keystones whenever possible(long runs over 175ft should use Cat6A).

Patch Panels, Switches and all other network equipment should be clearly labeled, especially to identify segmented networks.

All network equipment should be rated for at least a gigabit connection speed.

We recommend using managed switches to segment the POS, Office, and Guest networks. A VLAN capable Firewall, Switch and Access Point are recommended.

We recommend using a PoE firewall or Switch to power the Wireless Access Points
WIRELESS ACCESS POINTS
Wireless Access Points should be mounted according to type of antenna.

We recommend a WAP with an omni-directional antenna, ideally mounted to the ceiling.




•

For best performance, WAPs should be placed near POS locations and have a direct line of site to the terminals and printers.

WAP's should be capable of broadcasting both the 2.4Ghz and the 5Ghz bands on the same SSID and should be capable of band steering. Both bands are required for the SALIDO install.
NETWORK SETUP
All networks should be completely segmented. (Office, POS, Guest, etc.)

We recommend segmenting all internal networks on a single firewall using VLANs and necessary firewall rules.

Throttling the Guest network or using QOS to reserve POS bandwidth is recommended.

If you are using two separate firewalls to segment your networks we recommend making sure the POS network is not double NAT'd and is completely segmented from all other networks (both LAN & WLAN)

We recommend using a Class C Private IP subnet for your Native/Office network. E.g.192.168.2.0/24
We recommend using a Class B Private IP subnet for the SALIDO network.
E.g.172.16.0.0/24 (preferably keeping the POS network off of VLAN ID 1)
We recommend using a Class A Private IP subnet for the Guest network.
E.g.10.0.0.0/16

Fixed or reserved IP's should be used on the native network to prevent IP conflicts with statically assigned devices.
The POS network MUST be PCI compliant and should be scanned/tested for compliance.
Please check PCI compliance regulations and implement any necessary network changes needed.
Please secure and completely segment the POS network. All internal networks should not be able to communicate with each other (unless specifically designed). No network traffic should ever be allowed to cross on to the POS Local Area Network (LAN) or WLAN.

Please hide the POS SSID.

Please use complicated passwords to get on to or manage the network. Especially on the POS network. (8+ characters, containing at least 3 character types: UC, lc, #, sym)

Please turn off DHCP on the POS network and only connect SALIDO devices to said network.
A network audit, by Host, is available upon request and is recommended prior to the SALIDO installation.
NETWORKING EQUIPMENT
NETWORK ROUTER
Required Meraki Z3 or Z3C Series Routers

Z3C Provides Cellular Backup Protection*
ACCESS POINTS
SALIDO Standard Standard Meraki

MR36, MR46, MR56

Recommended alternatives MR44, MR28
NETWORK SWITCH
Recommended

TP-Link TL-SG1016PE

Requires POE+ for Access Points

Managed
KEEPING THE SALIDO APP UP-TO-DATE
We periodically release updates to the SALIDO app to improve stability, fix bugs, and introduce new features. Updates are performed from within the SALIDO app and typically takes approximately two (2) minutes. When available, updates should be installed on all terminals before service begins. SALIDO app updates will appear as a small green button on the bottom of the PIN in screen. For additional instructions on the app update process, please see this article.
KEEPING THE IPAD IOS UP-TO-DATE
To update the iOS of the iPad, navigate to the home screen of the iPad and select Settings > General > Software Update. If there is an available update it will appear in a red circle and ask you to download and install the update. This will typically take between 15 minutes and 1 hour, depending on the network connection speed.
NAVIGATING THE SALIDO POS APP
The default screen for SALIDO when the terminal is not actively in use is the SALIDO POS Main Menu. On the left hand side of the screen you will see the current Date and Time. Once the terminal is fully synced with the network and all other Terminals, it will display the Terminal Name, and the Location Name. The PIN pad to the right is used to enter the employees' 6-Digit PIN number. The current SALIDO app version is displayed in small grey letters at the very bottom of the screen.
Notifications indicating failure to connect to the network, or the MagTek Credit Card Swiper are displayed in the upper right hand corner. If you see one of these messages, please double check the network connectivity of the terminal, and/or the connection between the iPad and the MagTek Credit Card Swiper.
Accessing the SALIDO app requires the entry of a 6-Digit PIN Number, which is assigned to employees by a Manager. If starting a shift, all Positions associated with an employee will be listed on the right hand side of the screen. Once a Position is selected, the Time Card will be created and the shift is started.
Upon PIN-in, employees will see one of the following screens, depending upon the configuration of the SALIDO preferences:
Floor Plan Screen
The floor plan can always be accessed from Main Menu Screen or by tapping in the upper right corner when in Check Order Screen.
1. Use Revenue Center Viewer to select between the floor plans of respective Revenue Centers
2. You can toggle between the following views which are stationary on the menu to the right:
Floor View: Displays the table and seat layout of your location, tables you own are highlighted green, tables highlighted in purple belong to others, and tables in gray are open.
Time Open: Tracks the length of time from when a check was opened
Party Size: Identifies the number of people seated at each open table
Last Ordered: Notifies the length of time from when the most recent item ordered was sent on the open check
Server: Identifies owners of each open table by initial with a consolidated list containing full names of current table owners
Main Menu Screen
Depending on the Roles assigned to an employee, access to the following may be restricted as configured in the Bridge, access the SALIDO Main Menu from the Floor Plan or Check Screen:
Floor Plan: Return to the Floor Plan view in order to open a new or existing check on a table
Checks: View all open or closed checks, per Revenue Center
Manage Bank: Open / Close a Bank, assign a Bank to an employee or a terminal, or make a Pay-out / Pay-in
Guests: Manage VIP guests of the restaurant by storing contact information, preferences, allergies, and special notes
Status & Reports: Print out Server Reports, Daily Sales Summaries, Bank Reports
Settings: Troubleshooting and diagnostic tools
SALIDO Bridge: Access the Bridge directly from the POS Terminal for quick back-end changes!
Manage Menu: Assign counts to Menu Items when they are running low to seamlessly communicate with serving staff
New Check Screen
Checks are built by selecting the Menu Item from the Menu Section displayed on the screen. Menu Items will print in the kitchen on Prep Tickets in the order that they are added to the new check. Items can be highlighted and shuffled up or down, but once they are sent they cannot be re-arranged.
Across the top of the screen, above the Menu Item Buttons, you see the Check Info Bar.
Label: By default, this is the Check Number, but can be edited to display a Guest Name, or any Label to differentiate the check
Covers: Number of people in the party on the check
Table: Relevant only for checks generated from the Floor Plan View. If a check is created from the Check Screen, the table will read as "none".
Check Number: Randomly generated 4-digit number that is unique among checks for a business day
Time Open: Displays the amount of time in hours and minutes a check has been open
Order Type: A drop-down that controls the pricing and availability of the Menu Items on the active Menu
Selecting the icon displaying the three horizontal lines will toggle between the Floorplan View, Checks View, and POS Main Menu view.
Selecting the Lock Icon at any time will close out the current screen, and return the employee to the PIN-in screen. Please note that selecting the Lock Icon will send any unsent Menu Items to the kitchen!
Below the ordered Menu Items is the Check Action Drawer. These are buttons that perform actions that affect an entire check. Icons include: Discounts, Voids, Printing Guest Receipts, Save/Send, Add Gratuity, Transfer, Split, Merge, and Payments.
Lastly, at the bottom-right side of the screen, the Menu Dropdown allows employees to quickly toggle between all available Menus for their current Location.
CONTACT US
The SALIDO Support Team is available 24/7 to assist with any software related issues. To contact us, please email support@salido.com or call (855) 879-7595.
In order to help us better assist you, please be sure to always identify yourself by name and Organization, especially when calling the Support line.